Professional Builder magazine's
Will Spencer recognized as a building trades leader with Professional Builder magazine's "40 Under 40" Award
SEATTLE (March 10, 2020) — Professional Builder magazine unveiled its annual "40 Under 40" list of rising stars in the home building industry, and William Spencer of Spencer Cabinetry is among the honorees profiled in the March 2020 issue.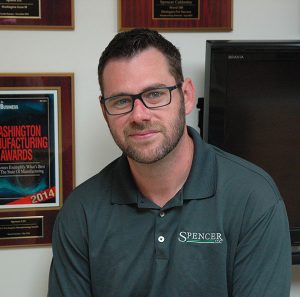 This year's class of 14 women and 26 men were selected from nominations submitted from all regions of the United States.  "This year's 40 Under 40 winners are an outstanding group of smart, determined, and innovative young housing industry leaders," says Editorial Director Denise Dersin.
Will Spencer stood out as a key supplier of cabinetry with unusual product flexibility, very quick response time, and extremely reliable delivery for residential construction projects.
Under Spencer's leadership, manufacturing lead time for a single cabinet has been reduced to less than a single working day, production volume has doubled, and scrap has been significantly reduced with a line of high-quality byproducts Spencer developed and is selling through the Made in Washington chain of gift stores.
Monthly profit-sharing bonuses to the cabinetmakers has tripled despite wage increases amounting to $6,000/year for each of them.  After implementing a 9-9-9-9-4 schedule to give employees a 2 ½ day weekend every week, Spencer introduced a concept he calls "undertime," which allows the work week to end even sooner with full weekly pay when the production quota has been met, which happens more than half the time.
At the same time, product quality is at an all-time high.
To learn more about the Professional Builder's extraordinary 40 Under 40 Class of 2020, see their profiles online at ProBuilder.com.