Ancestors of founder Carl Spencer came West in the early 19th Century, bringing their cabinetmaking profession with them from North Carolina. Carl still has a Walnut corner cabinet (see photo) built by his great-great-great-grandfather and son circa 1857 along with a secretary desk built by his grandfather and great uncle in 1903. 

Carl himself started as production labor on a panel saw at Armstrong Cabinets. Over the years, he served as Director of Manufacturing for Draper DBS, StarMark, and Canyon Creek Cabinets; and Vice President Operations for Omega Cabinetry. His unusually broad cabinetmaking experience ranges from mass-produced stock cabinets to ultra high-end one-of-a-kind custom furniture. 

Along the way, Carl and Dottie Spencer have discovered that the basic Toyota Production System works as well for designing and manufacturing cabinets as it does for automobiles. The organization they have built yields exceptional product design flexibility, high quality, and unmatched service — all for a very affordable price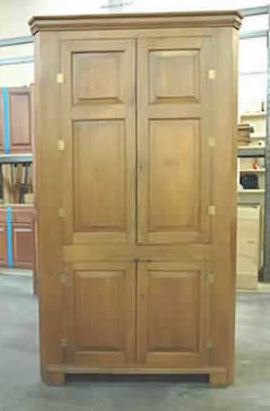 Looking for Heirloom Quality Cabinetry?
Spencer LLC is the leading provider of built-to-order cabinetry in the Seattle area. We welcome your visit to our showroom in Monroe, Washington. Come see how we can help transform your home into the home of your dreams! Your custom kitchen, bathroom, or living space awaits!