What is Premium Furniture Construction?
Simply put, what is under the countertop is as important as visible styling when it comes to the durability and longevity of your cabinetry.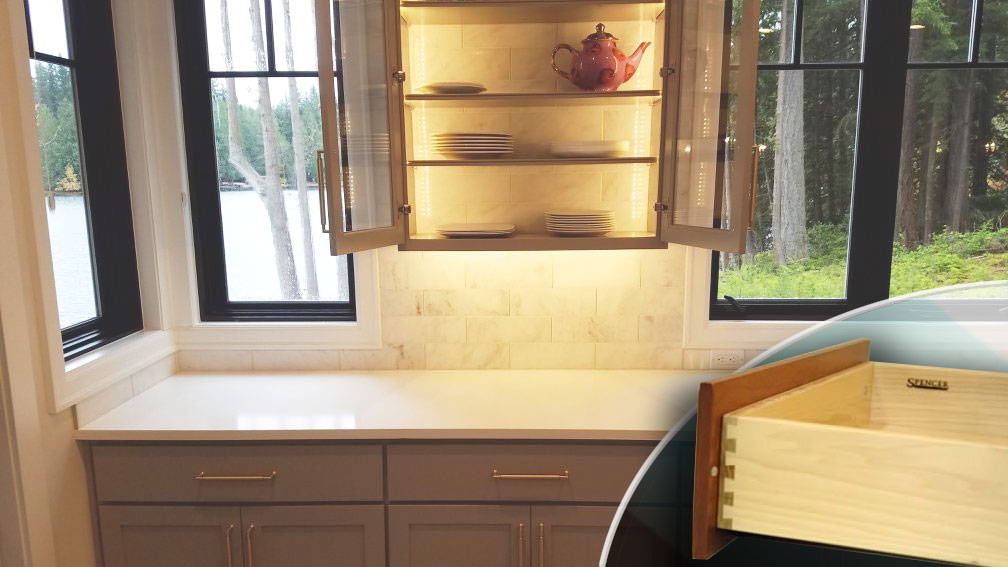 It turns out building cabinets using time-honored furniture-making methods doesn't have to cost any more than throwing them together in large scale for the quick buck. Well-built cabinets simply look better and last longer . . . all in all, the best value.     Below is a partial list of important furniture construction features typically not found in other cabinet lines, but standard with Spencer LLC: 
Other manufacturers ship their cabinets with an unfinished exposed end, then supply the installer with a finished panel "skin" to glue and nail into place under job-site conditions.
We make our frame and panel wainscot cabinet ends the same way they have always been made by furnituremakers over the last several thousand year.
First, we personally field measure each room using laser technology to assure all cabinets fit neatly into place during installation (no extra charge). 
The purpose of corner blocks (sometimes called gussets) is to help keep the cabinet square by bracing against case racking.
You can usually tell the cabinet quality from a given manufacturer by inspecting drawers they make.
It's a real shame people spend thousands of dollars for their cabinetry only to end up with cheap "peel and stick" bumper pads. 
Shouldered mortise-and-tenon joinery is the most time-honored method of quality cabinetmaking for some very good reasons: 
Custom details. Wood swelling and shrinking with inevitable humidity changes is one of the more challenging aspects of quality woodworking. And one of the most ignored. 
Baked-on Furniture Sheen Finish
There is no secret about our silky smooth finish — the right material applied with the right equipment in the right controlled environment. No dust, no muss! 
Glass doors for upper cabinets, home theatre installations and bookcases are the trend. Yet most cabinet manufacturers are terrified of breakage with glass doors and, as a result, ship their products with empty frames. 
Most stock and semi-custom cabinet manufacturers are limited to four or five species because they have limited room to store all the necessary "standardized" stock parts and panels. 
Heavy, Reusable Furniture Pads
We package our cabinetry using heavy quilted furniture pads instead of corrugated cardboard boxes or face wrapping for the following reasons: