Kitchen Cabinet Sales Position (Monroe, WA)
Job Title: Cabinet Sales Specialist
Compensation: Salary + Commission + Benefits (Health, Dental, Vision, PTO, etc.) – Realistic $100k+, Top cabinet sales reps. consistently earning over $150k/year
Cold Calling? Nope!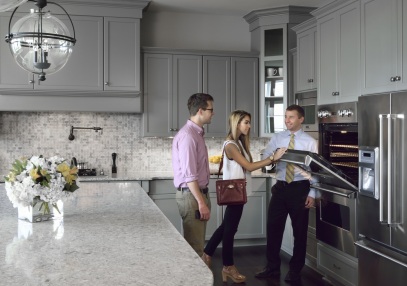 Looking For Seattle-Area Cabinetry Sales Professionals
Do you have cabinet sales experience? Are you interested in a predictably good salary from Day One when you start as a Kitchen Cabinet Sales Person, to be supplemented by lucrative tiered bonuses as you get up to speed?
One of our Kitchen Cabinet Salespeople has gotten it dialed in to where she has been making well over $150,000 per year!  Every year!!  With absolutely no prospecting!!!
If you can prove you are really good at Kitchen Cabinet Sales we might eventually consider you for an equity position!
This position is not for slackers or mere order takers, it is for professional Kitchen Cabinet Salespeople who know how to draw up beautiful kitchens with the aid of our kitchen cabinet sales support staff.
Yet, the single most important professional Kitchen Cabinet Sales skill is follow-up and closing. 
Our 16+ year reputation for designing and manufacturing top-quality kitchen cabinets and selling them direct to contractors and the public has blessed us with a veritable fire hose of qualified leads.  As a Kitchen Cabinet Sales professional for Spencer LLC, you never have to find customers, you just have to show them what we can offer them, then stay in touch with them as long as it takes to close the sale.
You won't ever run out of kitchen cabinet customers to sell to, so you can work a reasonable 40-50 hours per week and rack up as many sales as you can possibly handle.  It's all there!  Tier I and Tier II bonuses, here you go!  No time for drumming your fingers on your desk or Facebooking on your cell phone waiting for the next customer to call.  They're already here!  Sign them up!!
Which is not to say there is no personal life.  Spencer LLC believes in a decent work/life balance.  We never work on Sundays, and only occasionally work Friday afternoons and Saturdays.  We shut down completely during the week of July 4 and the week between Christmas and New Years.  Show us your stuff and you can make your own effective schedule!
Spencer LLC has 9 paid holidays  —  count them, nine!  We offer as good a health plan as anybody in the kitchen cabinet industry can field, often better.  The same with Paid Medical Leave and Paid Family Leave.  And if two weeks paid vacation isn't good enough for you, take advantage of all our kitchen cabinet sales opportunities, fill up our backlog, cover your current customers, make a bunch of money, and you can reward yourself with even more vacations!
Now, a little about our company.  Spencer LLC started manufacturing kitchen cabinets in 2005 with a plant designed by Carl Spencer along the lines of the Toyota Production System (TPS).  So, what does that have to do with kitchen cabinet sales?
The TPS system allows far and away the best design flexibility for make-to-order modular cabinets.  If you need a cabinet 28 13/16" wide – or 35 ¼" tall – or 20 3/8" deep – no problem.  And absolutely no special cabinet charges for mere dimensional changes!
Also, did you notice there that we operate using 1/16" increments on a routine basis.  You can design a kitchen to fit the space – no fillers.  And extended stiles are no charge.  Every time.  Anyone with at least a couple of years of kitchen cabinet sales knows exactly what a competitive advantage all these features are.
And we deliver when we agree to deliver.  On time.  Complete.  Since 2005.  Much talked about by other kitchen cabinet companies, but not so often actually executed.
Our close competitors cannot do all that without special charges and higher prices. 
Employment or Apprenticeship Inquiry
Thanks for your interest in joining the Spencer team! Send us your contact information, give us a brief idea of what you're looking for and we'll be in touch shortly!