"We love our [entertainment center] and everyone who sees it does as well. 

"Thank you again to you and your company for making the unit for us. 

"We love it and are getting a lot of use out of it." 

    — Everett, WA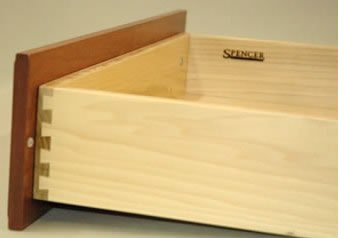 You can usually tell the cabinet quality from a given manufacturer by inspecting drawers they make. Joinery and finish frequently reflect the care, attention to detail, and engineering quality you can expect to see throughout the rest of the cabinet.
First, rub your finger down the joints. It should be smooth without gaps or mismatched parts. A lot of companies leave dovetail ends unfinished and rough, exposing the joinery to water absorption and eventual failure.
Next, note the relative height of the drawer front and side. Many manufacturers leave one higher than the other to accommodate a lack of precision in their processes.
At Spencer LLC, we manufacture all our drawers using tightly-machined dovetail joints for extra strength and dramatic appearance. Both hardwood and plywood drawers are square, smooth and finished, even at the joints. Front, back, and side edges are flush and smooth. We even put an additional coat of varnish on the joints for extra protection against water damage.
Looking for Eco-Friendly Cabinetry?
Spencer LLC is the leading provider of built-to-order cabinetry in the Seattle area. We welcome your visit to our showroom in Monroe, Washington. Come see how we can help transform your home into the home of your dreams! Your custom kitchen, bathroom, or living space awaits!