State of the art equipment. World Class Talent.
When you visit our cabinet making showroom in Monroe, Washington, you'll see that we've spared no expense in building the finest cabinet manufacturing company in the Seattle area. Yes, our cabinet making lineage dates back over a hundred years, but let's face it; equipment matters. As in any industry, having state of the art equipment can provide a competitive edge, as well as a superior product. We invest in both our people, and our equipment, in order to provide you with the best quality cabinets available.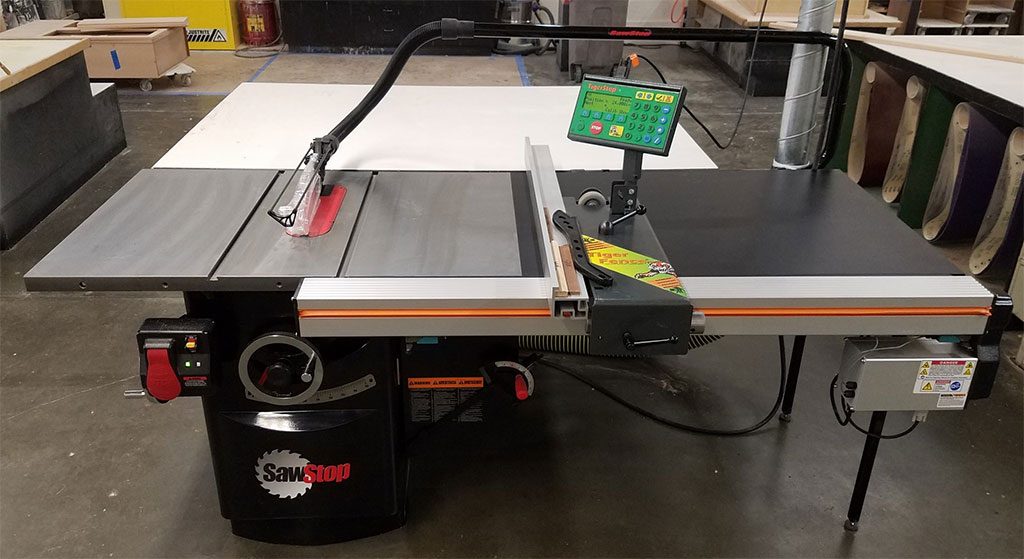 This is a photo of our new SawStop industrial table saw with a TigerStop Tiger Fence.
We currently have eight table saws. All but this one are dedicated to individual processes: five with power feeds and two with specialized sleds. Therefore, this is the only saw where the blade is not safely buried out of reach of careless fingers. We use it as a general saw to size raised panel blanks and other parts.
This new saw replaces a conventional industrial saw, but this saw will automatically stop the blade and pull it out of the way if it so much as touches human skin, and it has a riving knife which moves up and down with the blade, which is much safer than the traditional splitter on our old saw. It is certainly impressive technology! And well made.
The Tiger Fence sets the proper cutting width to an accuracy of about two *thousandths* of an inch, which is important since we frequently need to cut parts with an accuracy of 1/32" (a little more than three *hundredths* of an inch). 
The operator simply enters the desired size on the green control panel either in decimal inches or conventional fractions and the fence moves itself directly to the chosen setting. It is also programmable and can move repeatedly an incremental amount for repetitive cuts, pushing the material in preparation of each cut.
We have never had an injury on the old saw, and we want to keep it that way. And the SawStop saw is a high-quality piece of industrial equipment. It is also relatively expensive.
Most edgebanders assume the company wants to use them for processing large batches of parts and are impossible to use for smaller quantities or intermittently without major glue system problems and breakdowns. However, this batch processing is anathema to the Toyota Production System, which we use.
Our new edgebander, instead, is a one-of-a-kind technology making it possible for us to band shelves, doors, finished interior shelves, refrigerator panels, floating shelves, and veneer slab doors in very small quantities, many different times a day, supporting our "one cabinet at a time" process without problems with the glue system.
The term "banding" as we use it above is used rather loosely as many of these "bands" will actually be thick and wide sticks of matching solid lumber capable of additional profile shaping. Therefore, we can "band" all the many species we build by producing our own "banding" out of material left over from our lumber rip saw. Waste not, want not.
Looking for Top Quality Cabinetry?
Spencer, LLC is the leading provider of semi-custom cabinetry in the Seattle area. We welcome your visit to our showroom in Monroe, Washington. Come see how we can help transform your home into the home of your dreams! Your custom kitchen, bathroom, or living space awaits!