"I so love those cabinets and told a couple more people to check out your website. 

"I know [my friend] is excited to have you build her cabinets, too. I think she plans to do her kitchen after those bathrooms . . . 

"Thank you for all you have done for us." 

    — Snohomish, WA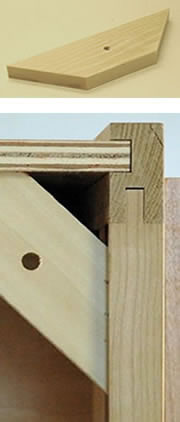 The purpose of corner blocks (sometimes called gussets) is to help keep the cabinet square by bracing against case racking. When done well, they also enhance the tensile strength of the face frame and end panel joints. Their secondary purpose is to secure the countertop. 

Many cabinet companies use molded plastic corner blocks stapled into place through flanges. These have a tendency to break or pull out even before the cabinet is installed, and perform poorly for attaching countertops (some manufacturers even recommend against using them for this purpose). Other companies use weaker particle board or plywood blocks. 

Corner block misalignment is a common problem across the industry. Aside from causing squareness issues, misaligned blocks frequently stick up over the top edge of the cabinet and complicate installation and countertop attachment. 

Spencer LLC makes and uses premium hardwood corner blocks which are glued and toenailed into a groove, preventing all of these problems. Every cabinet is correct, not just the showroom cabinets. Then we go the extra mile and pre-drill a screw hole so the block won't split during countertop installation.  
Looking for Eco-Friendly Cabinetry?
Spencer LLC is the leading provider of built-to-order cabinetry in the Seattle area. We welcome your visit to our showroom in Monroe, Washington. Come see how we can help transform your home into the home of your dreams! Your custom kitchen, bathroom, or living space awaits!