Heavy, Reusable Furniture Pads
"The closets are absolutely fantastic.
"Thank you so much for taking on this project.
"I am having pitcures professionally taken of the remodel. I will make sure to send you a disk with pictures of both the closets and the vanities." 

    — Queen Anne, WA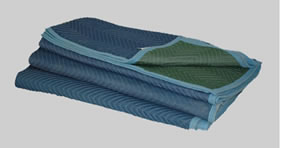 We package our cabinetry using heavy quilted furniture pads instead of corrugated cardboard boxes or face wrapping for the following reasons: 

1. Corrugated cardboard is expensive, yet gets thrown right away as waste. Our furniture pads add no cost because they are used over and over again. The money saved goes into cabinetry features you get to keep permanently. 

2. Corrugated cardboard is abrasive and can wear through the finish on corners and edges. By contrast, our furniture pads are soft and very protective. Most of our deliveries experience no shipping damage whatsoever. 

3. With our furniture pads, you can immediately inspect each and every piece in detail as it arrives. There is no such thing as hidden damage with Spencer cabinets because nothing is hidden.

4. Our furniture pads are returned to our plant to be reused immediately and don't clutter up the job site. By contrast, corrugated cardboard boxes and packaging used by other companies pile up into a waste disposal problem for you or your contractor, costing you even more time and money. It's an important side of "green" manufacturing typically passed off as "the customer's problem." 
Looking for Eco-Friendly Cabinetry?
Spencer LLC is the leading provider of built-to-order cabinetry in the Seattle area. We welcome your visit to our showroom in Monroe, Washington. Come see how we can help transform your home into the home of your dreams! Your custom kitchen, bathroom, or living space awaits!